T
he Hero's Journey is a model for storytelling and myth based on the writings of Dr. Joseph Campbell (See:
The Hero with a Thousand Faces
). Interestingly enough, George Lucas visited with Joseph Campbell while working on Star Wars. Lucas considered Campbell a mentor and a friend. Below you will find a Hero's Journey wheel (the monomyth cycle) specific to Star Wars. Below that, you will find a link to the hour long video in which Campbell breaks down Star Wars in terms of The Hero's Journey. In short, the whole concept of Campbell's monomyth revolves around an inciting incident that propels our would-be hero into action. The rise and fall of our hero (try / fail cycles), the universal "human" concepts that the main character may deal with along his or her path. This is what helps us connect to the character, and is basically the character arc. If you're currently stuck in your writing, you may want to consider the monomyth to help get you going again. Sure, this is a model, and you might react poorly to the notion of using something like this, but remember, this doesn't pigeon-hole you into some rigid format of storytelling per se. If used correctly the monomyth might just give you some sign posts to help you along your way.  
GEORGE LUCAS – HEROES, MYTHS & MAGIC – AMERICAN MASTERS 1993 (Around an hour)
http://www.youtube.com/watch?v=PGDJJohiomw
The (Star Wars) Hero's Journey Monomyth Cycle: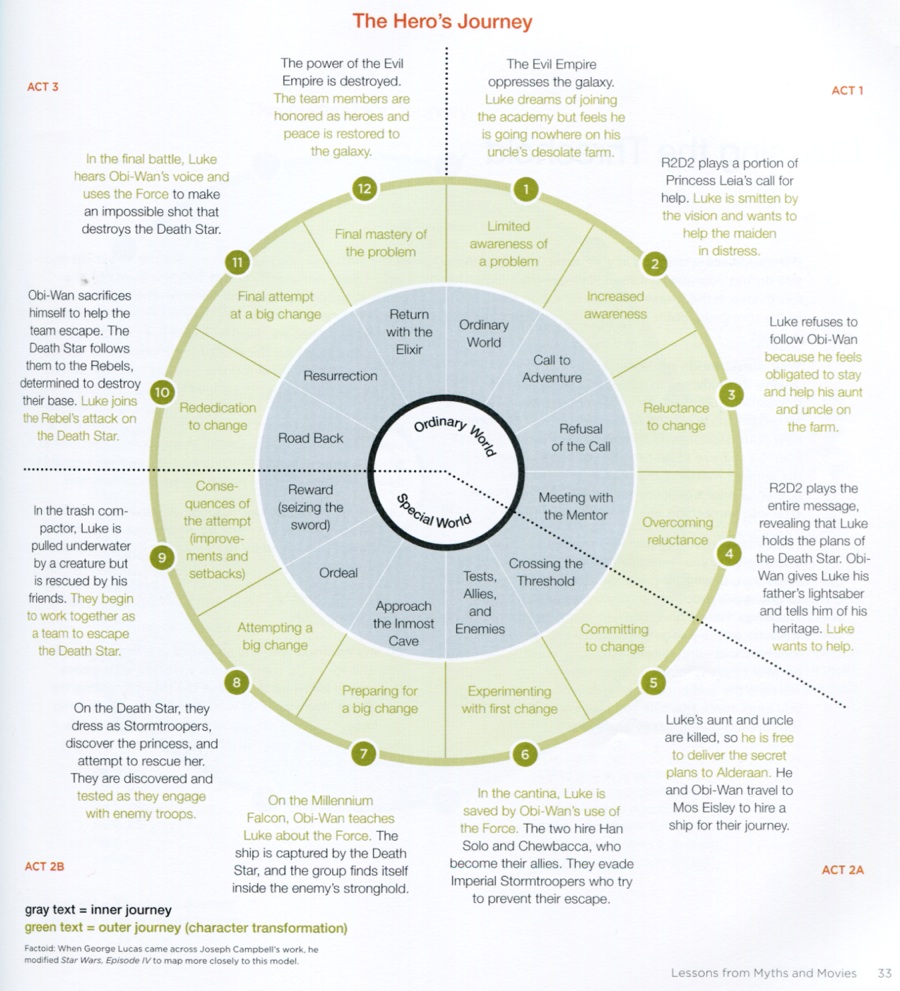 Check Out These Books
[et_pb_shop type="recent" posts_number="6" columns_number="6" orderby="menu_order" _builder_version="3.0.92" /]